QR Code Link to This Post
NEEDED ASAP!
Oiler/Wipers work aboard catcher processor vessels in the waters surrounding Alaska. They work under the Chief Engineer and Captain and are responsible for assisting with the safe and efficient maintenance and operation of all ship engineering systems. They provide support to engineering and factory staff and uphold all vessel, company and required safety regulations with regards to vessel and equipment.
APPLY ONLINE: Oiler/Wiper - Unalaska, AK - Glacier Fish Jobs (applicantpro.com) 
Primary Responsibilities:
Perform daily, weekly and monthly rounds in factory and engineering as directed by Chief Engineer.
Works exclusively with engineering department during offload and backload operations.
Grease factory equipment per assigned schedule from Chief utilizing appropriate lubricant for each type of equipment.
When greasing factory equipment, inspect for necessary repairs and maintenance, notifying Chief or Assistant Engineer of any deficiencies or concerns.
Monitor and record levels of various tanks, fuel, lube oil, ballast water, potable water, coolant tanks and bilge levels as directed.
Clean and operate fuel and lube oil centrifuges, demonstrate understanding of how and why they work.
Monitor and maintain all 12 and 24 DC battery systems throughout the vessel. Retain knowledge of each battery function and what results would be from malfunction or failure.
Transfer fuel from storage tanks to day tanks and from storage tank to storage tank, fill transfer or empty SW ballast tanks under direction of the Chief Engineer.
Grind, chip, clean, sand and paint all parts of the vessel as directed.
Assist in fuel and lube oil bunkering during offloads including preparation of fuel vent coffer dams, posting proper signage, and monitoring vents and transfer hoses.
Properly and safely fill potable water tanks as directed.
Effectively coordinates with all vessel department heads to ensure safe, efficient operation of the vessel both at sea and in port.
Ability to quickly and effectively recognize situations expanding outside realm of responsibility and communicate up chain of command.
Ensures engineering spaces, spare parts and tools are maintained in an organized and clean fashion in compliance with environmental regulations.
Ensures compliance with applicable sections of the Safety Management System. Is knowledgeable and conversant on applicable policies and procedures contained in the SMS.
Thorough understanding and implementation of Vessel Lock out/Tags plus procedures.
Work Hours:
Regularly scheduled for 12 hour shifts.
May be required to work additional hours due to occasional urgent vessel needs.
Shipyard duties to be fulfilled as required or assigned.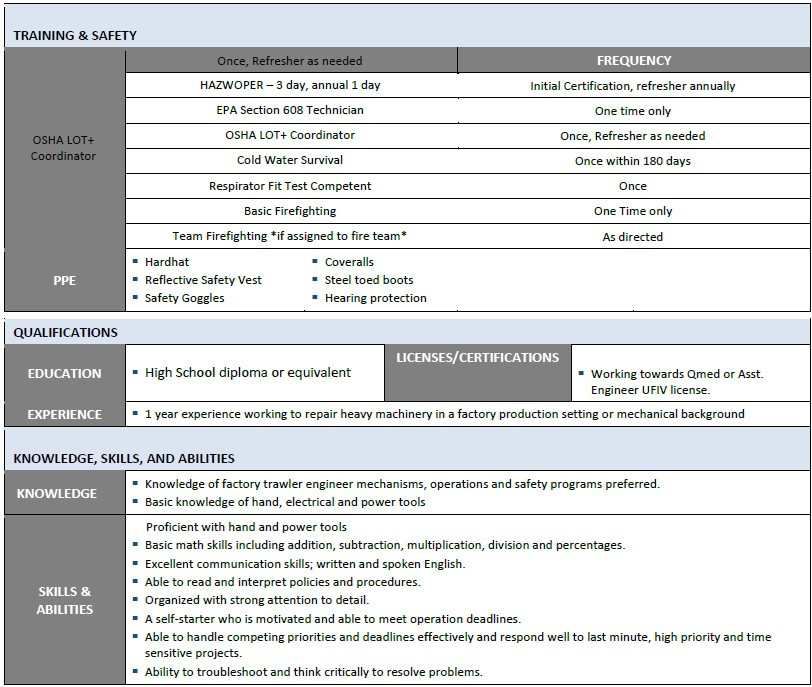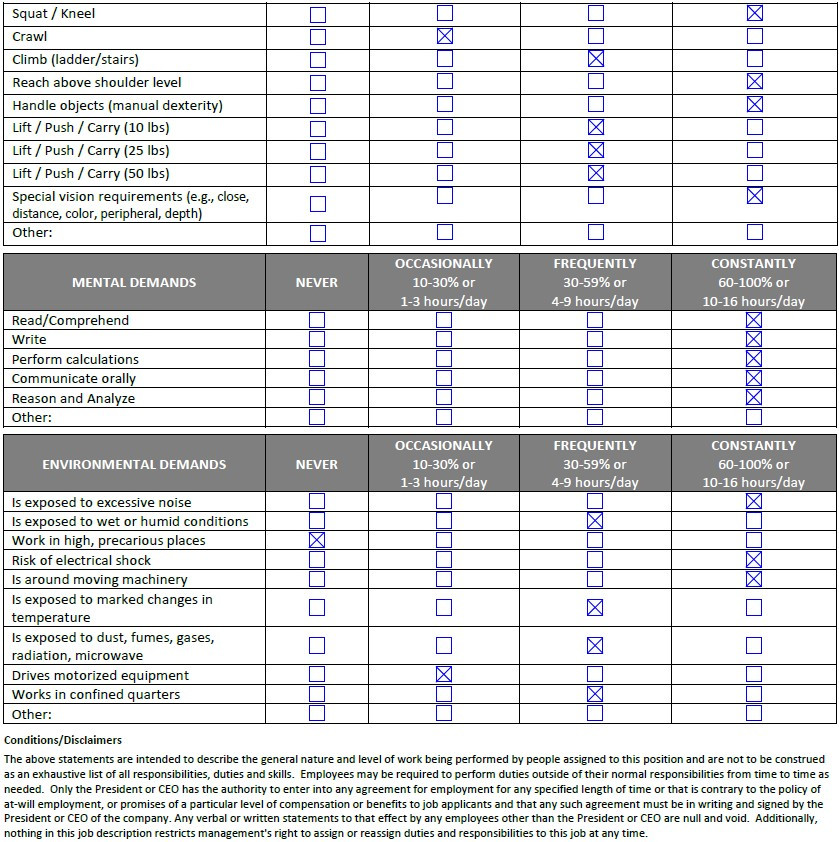 Glacier Fish Company is an Equal Opportunity Employer - Minority / Women / Disability / Veteran / Gender Identity / Sexual Orientation / Age.